Church History
St. Thomas Indian Orthodox Church, Greater Washington was founded in September 1965 under the leadership of late Rev. K. C. Thomas who later became His Grace Dr. Thomas Mar Makarios of Blessed memory, Metropolitan of   Canada and Europe Diocese.
The Church started as a congregation of young immigrants from the state of Kerala, India. Mostly from the neighboring areas of Washington DC, Maryland and Northern Virginia, the group organized liturgical services at various locations in the Washington Metropolitan area. Until the late seventies, the Saint Thomas Indian Orthodox Church was the only organized congregation of people of Indian origin in this area. It is also one of the first churches of the Malankara Orthodox Church of the East in the American Diocese.
During the 47 years of its presence it has been a source of blessing to many who participated in its Holy services. The church passed through various stages in its growth and today it is a living testimony of the faith of its founders and a joy to its members in the Orthodox family.
In the recent past, the spiritual growth of the parish was nourished by the appointment of permanent vicars residing locally including Rev. Fr. Geevarghese Ninan, Rev. Fr. Dr. M. S. John. Later, Fr. Dr. P. C. Thomas  provided dynamic spiritual leadership in all realms of the church activities and started the church construction process.  Rev. Fr. Santhosh Joshua  supervised the construction of the church building and led to the consecration in  2008. From 2010 to 2013, the parish was blessed with the appointment of the young monk Rev. Fr. Andrews Daniel. Fr. Andrews brought together the young people from all parishes in the Washington DC area. It was during his tenure that this parish was able to host the historic Catholicate Centenary Celebrations for the Washington area.
Today, the St. Thomas Church under the vicarship of Rev. Fr. Dr. Johnson C. John, is a vibrant community of 60 families rooted in the Malankara Orthodox beliefs. We have Holy Qurbana (Mass) Services every Sunday. We also have a very active Sunday School program, a youth program – FOCUS, Mar Gregorios Orthodox Christian Student Movement (MGOCSM), the women's auxiliary, Martha Mariam Samajam. The prayer group and prayer meetings conducted every fourth Saturday is another major activity of the church that provides fellowship and spiritual education to the members.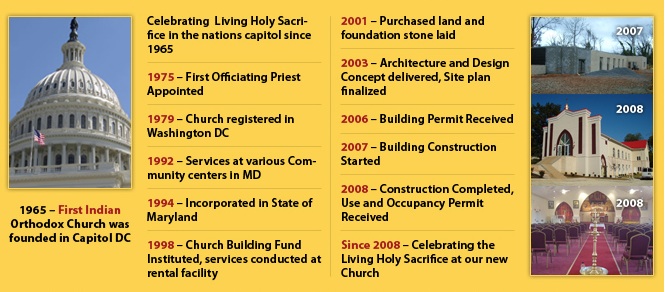 We acquired 1.2 acres of land in 2001 to construct our own Church building.  H.H. Baselios Mar Thomas Didymos I performed the ground breaking ceremony in 2006. The construction started in Fall of 2007 and the church building was consecrated by H. G. Mathews Mar Barnabas in November 2008.
We earnestly welcome your participation in the church's divine services to the community.
Ecumenical activities
Our church is an active member of the Ecumenical Council of Kerala Christian Churches of Washington Metropolitan Area. The annual Christmas celebration is a major activity of the Ecumenical council.