Sunday School Message
Message from the Sunday School by Rev. Fr. George Mathew Jr.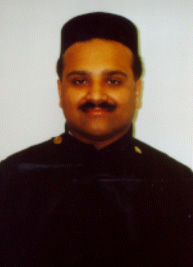 One of the greatest missions that Christ left the Holy Church is found in St. Matt. 28:19-20. Here, He entrusts the continuation of His mission to His disciples and apostles – preaching, teaching, and baptizing. It only through this mission that souls are saved and committed to the Kingdom of Heaven. Sunday School is an outgrowth of this mission and one of the most important ministries in the Holy Church today.
The purpose of Sunday School is to teach our children how to live their Orthodox faith. Just as one would never cover a lighted candle, we too must never minimize the importance of the Gospel and Christian living. In Sunday School, children are taught about the Holy Bible and Tradition, which provides a strong Christian foundation for them to go out into the world and share their faith and do good works. Children are taught to witness their Lord and Savior in thought, word, and deed. They are taught about charity and participation in the life of the Holy Church. They are taught to make decisions based on what the God has commanded. For, as it says in Proverbs 22:6, by forming/molding/training our children, when they are young, in the correct way to live, they will not deviate from it later in life. This will strengthen their character and help then to grow in the grace of God.
At St. Thomas Indian Orthodox Church, Greater Washington, we realize the need for sound Orthodox instruction. Our staff is dedicated and equipped to train our children in the Holy Bible, Orthodox faith, and Tradition. Lessons focus on stories from the Bible, church history, and fundamentals of Orthodoxy. Classes are arranged by age and meet every Sunday after the Holy Liturgy, except major feast days. Children are encouraged to memorize verses from the Bible. Older classes are assigned projects and presentations that promote learning and effective verbal and written communication. A short general session which precedes Sunday School offers an opportunity to learn new and traditional songs, as well as learning key Bible facts through games and contests. The Sunday School performs during Christmas and the Anniversary Program, which is the culmination of the Sunday School year. Our Sunday School further competes with other Sunday Schools along the East coast during annual competitions. During the summer months, two age-specific Malayalam classes are conducted to train children in reading, writing, and communicating in the mother tongue. Furthermore, Orthodox Vacation Bible School (OVBS) is conducted the third weekend of August each year with our sister parishes.
Above all, our Sunday School program seeks to teach children about Christ and His Church and their role in the Church. Children are encouraged to live a life in the Church and grow closer to Christ, witnessing and spreading the love of Christ in the world they live. This fulfills 3 John 8, knowing that our children are walking and living in truth. If we want strong Orthodox churches in the future, the future generations need to learn about Orthodoxy and embrace it.
May God richly bless our children and utilize their talents and abilities to further His Kingdom in the future. Pray for us and the success of our Sunday School mission. With love and prayers,
Fr. George Mathew
Team Members
Mrs. Shiny Sam (Principal)
Ms. Amy Abraham (Asst. Principal)