English Service Book
The MGOCSM of St. Thomas Indian Orthodox Church, Greater Washington is pleased to announce the release of a newly compiled version of The Service Book of the Holy Qurbana for English Services. This book was created from the original English Translation by HH Mar Baselius Marthoma Mathews I (of blessed memory). To this, many new features have been added to create a single book that will improve the quality of the services in English and will aid any user in attaining a higher level of worship.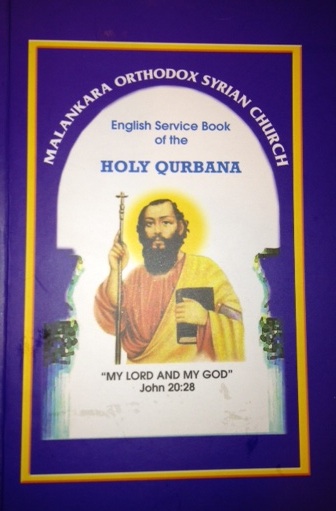 (Please specify "For English Service Book" and the number of copies in the "Payment for" section in PayPal)
Book Excerpts
Features
Complete Morning Prayers for both seasons
One set of priestly prayers in English.
Music notations for the main worship songs.
Special prayers for 'Adoration of the Holy Cross' and 'Intercession to St. Mary'.
Meanings of many words used during the service.
Neat, hard bound book with high-quality printing.
Meanings of  liturgical words during the service.
Alternate songs used during worship.
Liturgical calendar for 10 years
Please send us an email at
if you have any questions.
List Price: $20.00 + $3.00 S&H
Availablility: In stock, Ships immediately
St. Thomas Indian Orthodox Church, Greater Washington
13505 New Hampshire Ave, Silver Spring, MD 20904
We encourage all parishes to order sufficient copies for the entire parish. Some of the proceeds from the sale will go towards our church building fund. We thank you for your order and pray that the use of this service book will allow you to experience a fuller, more meaningful worship.
MGOCSM
St. Thomas Indian Orthodox Church
Greater Washington, DC