Message from
Rev. Fr .George Mathew
Message from Rev. Fr .George Mathew, our parishioner.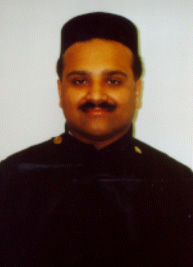 Rev. Fr. George Mathew Jr.
Dearly Beloved in the Lord,
Welcome to our parish website! We are glad that your travels along the information superhighway has brought you here, even if only for a few minutes, to experience a little bit of our parish. We hope you find information of use and will visit us again. In fact, we also welcome and encourage you to join us for worship. Our communion service is a rich and flavorful service that uses all the senses; you experience the true presence of God.
At the onset of our Lord's ministry, He called for a select group of men to "Come, Follow Me". These men became His disciples and later apostles and martyrs. Through this small command, He called these men to experience a richer and fuller life, leading away from the earth and towards heaven. And, the people He chose were simple men. They weren't the flashy, well-educated religious leaders of the time. Jesus wanted the world to know that He could use anyone willing to follow Him and uphold the truths that he proclaimed.
It is this same command that the Lord gives to each of us, "Come and Follow Me." To follow Him means to live according to His measure and walk the path leading to heaven. What is important to Him becomes important to us. We begin to avoid worldly pleasures and focus our attention on the divine. Our pursuit in life becomes being united with our "Lord and God." This is the proclamation of faith made by our patron saint, St. Thomas, and it is what has allowed our church to flourish and grow over the centuries of its existence.
Today, we trust God even more for His guidance and direction. For 37 years, St. Thomas Indian Orthodox Church, Greater Washington has stood as a beacon of hope to the Indian Malayalees living in this metropolitan area. And, under the guidance and direction of our dynamic and inspiring vicar, Fr. Santhosh Joshua, God is doing wonderful things. With weekly services and various activities for all ages, our members experience a brotherly cohesiveness. We are even in the midst of erecting our own worship facility, a 6000 SF structure dedicated in the name of our patron saint, St. Thomas. We solicit your earnest prayers for this project and for our parish in general. Please join us for worship and experience the rich and diverse culture of Kerela, our native place.
May God bless you richly and abundantly, showering His choicest blessings in your life.
In Christian love,
Rev. Fr. George Mathew